May 29, 2018
Providing residents with neck, back relief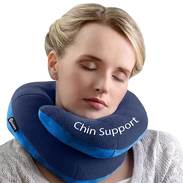 BCOZZY
Bcozzy is targeting seniors and eldercare providers with its line of specially designed neck pillows.
The company offers what it claims to be the first chin-supporting travel pillow. It provides users with flexible, ergonomic comfort, with a structure that lends peripheral support to the head, neck and chin while sitting upright.
The product is ideal for the elderly and those with special needs, according to the Miami Gardens, FL-based company's website. It can be used for individuals suffering from Parkinson's or Alzheimer's, or seniors who find it difficult to hold their heads up while relaxing.