June 14, 2016
Prime Medical launches SAF-T line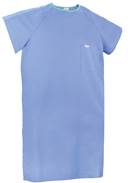 SAF-T patient gown
Prime Medical has launched a new line of bactericidal products for healthcare patients and providers.
The new SAF-T™ line includes privacy curtains, bedding, towels and a variety of clothing. The products are made with Prime Medical's patented antibacterial fabric, which holds a 99.9% effectiveness rate in killing bacteria and viruses after being washed with bleach.
The fibers of the fabric absorb chlorine molecules and retain the chlorine for up to 120 days.
"Unprotected fabrics in the healthcare environment are known to harbor dangerous pathogens and can undermine infection prevention measures such as hand washing, instrument sterilization and hard surface disinfection," said Byron Davidson, D.O., chief medical officer of Prime Medical. "The fabric used in SAF-T products has been field tested by the United States Army Medical Research Institute of Infectious Diseases and is proven to kill the colonization of bacteria with no decrease in effectiveness."