February 02, 2016
Pressalit Care receives approval for height-adjustable toilets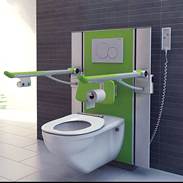 Pressalit Toilet
Pressalit Care has received cUPC approval for its SELECT™ line of height-adjustable toilets. cUPC is the Universal Plumbing Code covering both the United States and Canada.
The height-adjustable toilets are mounted on tracked brackets to move the elevation by 15 inches. This allows disabled or wheelchair-bound people to bring a wheelchair and toilet to the same level. The toilets are particularly attractive for those with spinal cord injuries or patients recovering from hip replacements, the company noted.
The system's adjustments can be controlled manually or via a hand-held remote. Maximum recommended weight capacity of the unit is 440 pounds.