October 20, 2015
Plumbing manufacturer adds organizer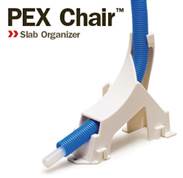 Pex Chair
Rough plumbing manufacturer Sioux Chief has added the PEX Chair™ slab organizer.
The PEX Chair can support single 3/8" through ¾" PEX supplies on residential or commercial, multi-floor construction projects.
Multiple units can be connected, which can allow concrete to flow around the device. Other features include a rebar receive and height adjustment. A hook feature at the top of the unit makes it easy to install PEX without kinking, the company said.