November 11, 2014
Philips highlights Lifeline GoSafe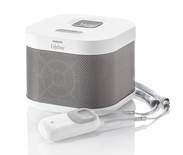 Philips highlights Lifeline GoSafe
Royal Philips has made available the Philips Lifeline GoSafe, a mobile medical alert service that is part of Philips' suite of digital solutions.
GoSafe has a "hybrid" location approach, which allows response center associates to locate seniors in need of assistance in areas where GPS may not be available, such as indoors or in a parking garage, the company said. GoSafe's AutoAlert fall detection technology can automatically call for help if it detects a fall, providing protection even if the senior is unable to call on their own. The GoSafe pendant can be charged while worn.
"Our connected solutions offer customers mobile protection so that they may feel confident while staying active and being the places where they want and need to be — from walking the dog and exercising, to fishing, taking a trip to the mall or visiting family and friends," said Kimberly O'Loughlin, general manager for Philips Lifeline.