March 11, 2014
PDI changes Sani-Cloth wipes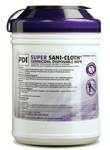 PDI changes Sani-Cloth wipes
PDI has announced changes to its Super Sani-Cloth® Germicidal Disposable Wipes Master Label, including EPA acceptance on kill claims for Bordetella pertussis, Enterobacter cloacae (NDM-1 Positive) and Klebsiella pneumoniae (KPC-2 positive, multi-drug and carbapenem resistant).
While the formulation of the cloths has not changed, additional label enhancements include listing isopropyl alcohol as an active ingredient.
"We continue to innovate both products and packaging so healthcare facilities have the best technology available to help in the fight against multi-drug resistant organisms and healthcare-associated infections," said Melanie Kupperman, product manager for Sani-Cloth.
The cloths have tested effective against 30 microorganisms with a contact time of two minutes and are meant to disinfect high-touch, non-porous surfaces. They are available in multiple sizes including a large canister (6" x 6.75" wipe), extra-large canister (7.5" x 15" wipe), large individual packets (5" x 8" wipe) and extra-large individual packets (11.5" x 11.75" wipe).