August 23, 2016
Patient safety footwear for bariatric patients debuts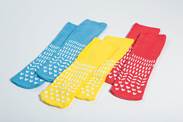 Patient Safety Footwear Confetti Treads Bariatric

Albahealth®, a division of Encompass Group LLC, has introduced patient safety footwear for bariatric patients within the Confetti Treads® line.

The socks range up to size 5XL. They are designed to stretch to keep the sock in position and for comfort.

"The 5XL sock offering features a flexible profile to easily accommodate either a short/wide or long foot, and a stretch welt design made to accommodate larger ankles and calves without creating restriction on the patient's limb," said Jennifer Woody, senior marketing manager for the Encompass Group.

All Confetti Treads® feature slip-resistance and tread.