May 29, 2013
Patient repositioning product lowers pressure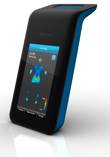 Patient repositioning product lowers pressure
A new pressure-sensing system shows pressure points on a patient's body on a monitor.
Wellsense presented the results of a study with their continuous bedside pressure mapping system, called M.A.P™, at a Cleveland Clinic summit last week. By using it to detect and depict the variations in pressure across a patient's body, caregivers can use the biofeedback product to reduce pressure ulcers.
The research "highlights the role biofeedback plays in effective patient repositioning, comfort, caregiver satisfaction and effectiveness, and pressure ulcer prevention," the company said.