October 11, 2017
Oxygen concentrator released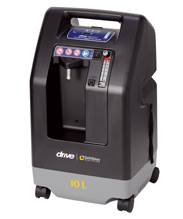 Drive
Drive DeVilbiss Healthcare has debuted a 10-Liter Oxygen Concentrator that weighs 42 pounds.
The concentrator should provide optimal oxygen delivery for patients with varying flow requirements and is capable of delivering 87% to 96% oxygen purity from 2‐10 liters per minute (LPM), the company said.
It can be used with high-pressure masks and large-volume nebulizers.
"The Drive DeVilbiss 10-Liter Oxygen Concentrator is intended to give clinicians, providers and patients peace of mind and offers three key areas of differentiation," said Mitch Yoel, Executive Vice President, Business Development for Drive DeVilbiss.
He explained that the product shares 80% of parts with the 525DS 5-Liter concentrator from Drive DeVilbiss. It is the smallest and lightest weight 10-Liter concentrator on the market, and offers clinicians flexibility to use accessories for those with respiratory impairments, he said.