November 28, 2017
Oral liquid of spironolactone available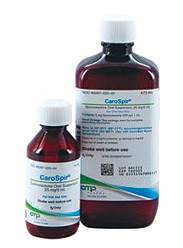 CaroSpir
CMP Pharma announced its CaroSpir is the first FDA-approved oral liquid dosage form of the potassium-sparing diuretic spironolactone.
CaroSpir oral suspension, in a banana flavor, allows adult patients who cannot swallow tablets to receive a consistent dose of spironolactone every time. Otherwise, patients who needed a liquid form of the medication had to use compounding pharmacies.
CaroSpir is available in 118 mL and 473 mL bottles, which do not expire for 24 months and are manufactured at an FDA-inspected GMP manufacturing facility in North Carolina.
"CaroSpir is intended for a subset of the patient population that needs spironolactone, but has difficulty swallowing or inability to swallow," said Gerald Sakowski, CEO of CMP Pharma, Inc. "Until today there was no FDA-approved oral suspension of spironolactone to satisfy this unmet need. The availability of CaroSpir now gives healthcare providers and appropriate patients a convenient, safe and approved liquid option."