February 25, 2015
OnShift Insight, OnShift Hire hit market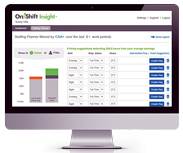 OnShift monitor
OnShift has introduced new workforce analysis and applicant tracking products for hiring.
The new OnShift Insight can be used to make hiring recommendations, with providers able to see a graphical dashboard to see where shortages are, or model "what-if" scenarios. OnShift Hire can be used for efficient applicant tracking, such as building a candidate pool.
The goal is to let senior care providers overcome workforce struggles, company executives said.
"Providing real-time visibility into hiring needs will eliminate cumbersome and time-consuming processes and allow executives to focus on running the business," said Dale Zaletel, Post-Acute Care Development Strategies.