May 03, 2016
NPWT pump released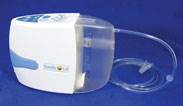 Sanity G6
Nurse Rosie Products has debuted its newest product in its Rosie Wound Care Solutions Division, called Sanity G6.
Sanity G6 is a negative pressure wound therapy pump, and does not use an internal air pump to provide vacuum to a collection canister. The Sanity G6 instead has a patented vacuum pump that is integrated with a canister.
The tubing is permanently attached and a venting system keeps the tubing clear.
The pump is FDA-listed and PDAC-approved. It can run for up to 30 hours.
It can be used with Nurse Rosie's GelTex NPWT Black Foam Kits, LipoGel or IodoFoam.