June 11, 2014
NewCare Solutions releases Family Plus program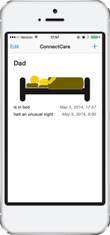 NewCare Solutions releases Family Plus program
NewCare Solutions has announced the market release of its Family Plus program for its SilentAlert Resident Monitor System.
Family members of residents in the program can download a phone application to their iPhone. This allows them to see how their loved one is sleeping, upcoming events and any new services.
The oversight allows more physician and family discussions about residents' health status, and allows families to feel more comfortable.
"The introduction of our Family Plus program, in conjunction with our SilentAlert Sleep Index and phone application, positions us as the only technology that helps improve the care that our customers provide AND generates revenue which more than pays for the service," said Will Kaigler, CEO of NewCare Solutions.