May 31, 2016
New UV disinfection system created for wheelchairs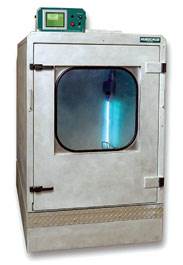 HubScrub 20/80 model
The HubScrub Model 20/80 UV offers a way for providers to clean equipment such as wheelchairs in six minutes.
The 20/80 model can also fit carts, split rental beds or two commodes.
Features of the 20/80 product include automated draining, two gallons of HubScrub detergent and rinse drying aid and automated wash pump filter cleaning. Optional features include a manual spray attachment.
The system helps eliminate pathogens such as Clostridium difficile, MRSA and CRE from surfaces. It has a one-year warranty on parts and labor.