April 18, 2017
New temperature detector released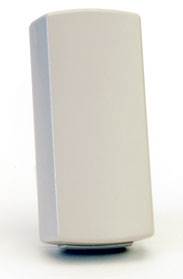 Inovonics EN1752 Temperature Detector
Inovonics has debuted a new EN1752 temperature detector, which is integrated into its existing system.
The EN1752 temperature detector is preconfigured with high and low set points of 80°F (27°C) and 40°F (4°C), the company said. Settings can be customized to include temperature threshold, unit of measure (°F or °C), and measurement and supervision intervals. It is designed for storage areas, freezers or server rooms.
An ACC17XX programming cable is sold separately.
"Similar to our recently launched EN1751 water detector, the EN1752 temperature detector lets customers easily add high and low temperature threshold alarms onto any Inovonics system, eliminating the need to buy, install and maintain third party temperature sensors," said senior product manager Scott Fincher.