September 27, 2016
New shower released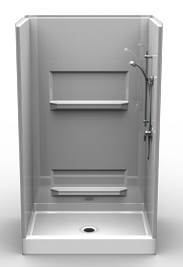 Best Bath Shower
Bestbath has unveiled its new 48-inch by 36-inch universal design shower with a look of subway tile.
Bestbath said it wanted to streamline the order process by allowing custom showers to be shipped in as little as three days. The 48-inch by 36-inch design lets customers update their shower with a barrier-free solution. Grab bars can be added with an order or later.
"The complete line, offered in barrier-free or curb units, fills a niche for clients that already have a 48-inch by 36-inch standard unit. It is designed to make aging in place easier and elegant," said Nate Jensen, vice president of channel sales at Bestbath. "We're expanding our offering to provide customers with a wide variety of shower size options that include subway tile."
Bestbath offers a 30-year limited warranty on showers.