April 17, 2018
New scale for weighing patients in wheelchairs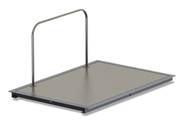 SR Scales
SR Instruments in Tonawanda, NY, has unveiled a new scale that can be used by long-term care facilities.
The third in its flagship product line of SR Scales, the new SR-463iR-4 is an in-floor model that is intended for weighing patients who are in a wheelchair or on a stretcher. It measures 4' X 6' and has a weight capacity of 1,000 pounds, according to a company announcement.
The in-floor model is recommended for a first-floor setup in newer buildings. Those looking to retrofit can also check out SR's wall-mounted line. Designed to save space and cast a low profile, the scale offers"an attractive solution for pre-existing medical centers requiring larger systems on upper levels," according to the announcement.