January 14, 2014
New robot can carry items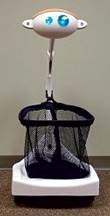 New robot can carry items
Five Elements Robotics has created a robot that follows a person around and carries items.
Budgee™ is easy to operate, and portable, the company said. It can act as a "personal assistant." The robot weighs less 20 pounds and can carry up to 50 pounds. It can be controlled through a smartphone or tablet.
Customization options are numerous, including being able to change the robot's eye color.