March 31, 2015
New robot available as aide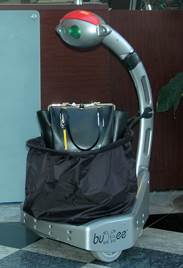 Budgee Solo
Budgee is an innovative robot that performs helpful tasks for elderly or disabled individuals, 5 Elements Robotics announced.
Budgee can carry items and performs basic — but necessary — tasks. He responds to voice commands or a user's smartphone. He is being promoted as ideal for assisted living residents.
The robot was previewed at the Consumer Electronics Show in Las Vegas in January and will be widely available in May. It will be available for $1,400.