April 21, 2015
New packaging for topical anesthetic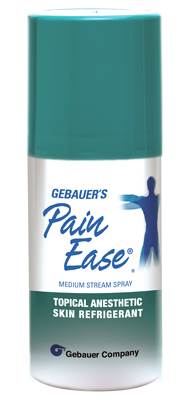 Gebauer's Pain Ease Medium Stream Spray
Gebauer's PainEase® instant topical anesthetic skin refrigerant is available in a new single-patient package, the company said.
Pain Ease is sprayed on patients' skin for four to 10 seconds to ease pain.
The company has created a package that can dispense approximately eight to 10 applications. The larger Pain Ease 3.5-ounce package has approximately 40 to 50 applications.
The new packaging is based on demand from healthcare providers, the company said.
"Extensive work was put into determining the most convenient and effective package to bring Pain Ease's instant relief to hospital patients who undergo needle procedures such as blood draws, IV starts and injections," said Bethany Nock, Gebauer marketing director.