January 12, 2016
New online education series on psoriasis launched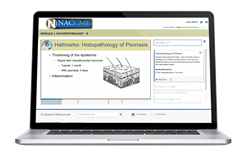 New online education series on psoriasis launched

ArcheMedX and North American Center for Continuing Medical Education LLC (NACCME) will launch of a new online educational series to help treat patients with psoriasis.

The e-learning program, supported with a grant from Lilly USA LLC, has five interactive web-based activities for nurse practitioners and physician assistants. It is run through the ArcheViewer, a data-driven e-learning and analytics platform.

The collaboration between NACCME and ArcheMedX has yielded 13 online activities.

The series contains educator notes and interactive polls. The psoriasis course launched December 15.