September 06, 2017
New nurse call system debuts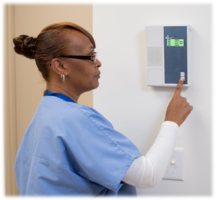 Jeron Nurse Call
Jeron Electronic Systems Inc. has introduced the Pro-Alert 570 Nurse Call System.
Its features include wireless pendants to place calls and daily check-in. All resident and staff interactions on the Pro-Alert 570 System are documented.
Activity reports can track staff responses and highlight bottlenecks, the company said. The system has nurse consoles in staff areas and alerts for mobile units used by caregivers.
"Staffing levels and availability can be a challenge affecting responsiveness to residents in a skilled care environment. To support residents and caregivers, Pro-Alert 570 Nurse Call automates processes and workflows in turn supporting a timely response to residents," states Myles Cochran, Director of Marketing at Jeron Electronic Systems. "When residents are attended to in a timely manner, the everyday experiences for both staff and residents improve dramatically. Pro-Alert 570 Nurse Call assists in that attentiveness and provides critical life safety emergency signaling all at the same time."
The nurse call equipment has Jeron's five-year warranty, and all system components are continuously monitored, the company said.