November 15, 2017
New linens debut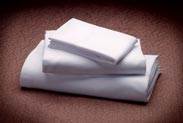 Encompass Pillows
Encompass Group LLC has added the Performance RX sheeting line for healthcare customers.
It is a cotton-polyester blend that is easy to launder, the company said. The sheets are available in two sizes of flat sheets, along with a 42x36" pillowcase, in white.
"Our new Performance RX Sheeting perform beautifully in the laundry, and will please the most discerning patients and residents," said Tom Langdon, Encompass General Manager, Bed and Bath.