October 05, 2013
New line of compression socks announced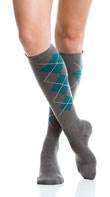 New line of compression socks announced
VIM & VIGR has announced a new line of stylish compression socks, which the company says can combat the negative impacts of prolonged standing.
The socks use Gradient Pressure™ knitting technology to boost the flow of blood to the legs, which help prevent and reduce spider and varicose veins, inhibit swelling, and alleviate leg achiness and heaviness.
The socks feature compression that begins at the ankle, a fitted heel and flexible toe pocket.