October 27, 2015
New hip protectors released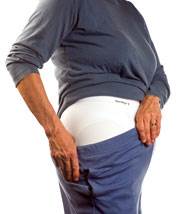 Hip Protectors
Prevent Products Inc. has introduced new hip protectors with PPI-RAP™ (Rapid Absorption Polymer), a new foam technology that rapidly absorbs impact shock.
The foam offers 60% more protection and the pads are are 40% thinner. They also have antimicrobial product protection that protects against germs, the company said.
The new technology helps absorb energy at impact but is soft when at rest.
"The new, improved GeriHip® is our first collaboration with Viemeister Industries and Yeadon Space Agency. Together, we are bringing new technologies and user-centered design to our suite of preventative care products," said inventor and President Mario C. Garcia.
Viemeister Industries is one of the creators of the OXO GoodGrip line of kitchen tools.