August 16, 2016
New fiber dressing becomes available in the U.S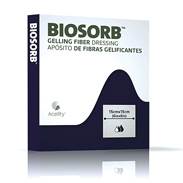 BIOSORB™ Gelling Fiber Dressing
Acelity has said its BIOSORB™ Gelling Fiber Dressing is now available in the United States.
The dressing forms a gel when it meets an exuding wound. The ability to hold its shape makes dressing changes less painful for the patient, the company said. It is considered appropriate for those with pressure ulcers, diabetic foot ulcers or traumatic wounds.
"These dressings, combined with our negative pressure wound technologies form the most comprehensive wound care portfolio offering clinicians around the world healing solutions no matter the acuity or care setting," said Joe Woody, president and CEO of Acelity.
BIOSORB™ Gelling Fiber Dressing is available in the non-silver format (non-antimicrobial), with the silver version (antimicrobial) expected to follow early next year.