May 31, 2016
New device diagnoses dry eye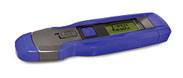 i-pen for dry eye
I-MED Pharma Inc. has launched its new medical device, the i-PEN, for diagnosis of dry eye disease.
The handheld device allows providers to quickly measure tear osmolarity derived from ocular tissues.
"We are excited about the opportunities the i-Pen® platform provides for clinicians and for their patients by giving them an accurate and reliable quantitative measure of DED. From the start our goal was to make this important diagnostic tool easily accessible to all healthcare professionals to help them diagnose and target dry eye treatments for their patients," said Daniel Hofmann, vice president of I-MED Pharma.
The i-Pen® will be submitted to FDA in 2016. I-MED Pharma is a privately held Canadian company that designs, manufactures and distributes medical, surgical and veterinary eye care products.