October 03, 2017
New device considered ideal for bedside care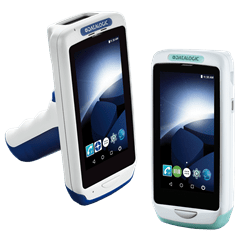 New device considered ideal for bedside care
Datalogic has debuted the Joya™ Touch A6 Healthcare (HC) device.
The device combines Datalogic's 2D reading, the Android operating system and wireless charging and is in chemical resistant plastic housing, Datalogic aid.
It is offered in a handheld version resembling a smartphone and a pistol grip version with a comfortable trigger, the company said. The wireless charging eliminates a need to clean a unit and cradle, and the device has six charging profiles.
Other features include a 3-Axis Accelerometer, a vibration alert and a 12-hour battery life.