February 28, 2017
New cap with timer released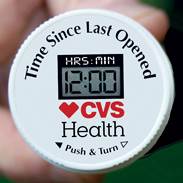 TimerCap
TimerCap feature medication caps with a stopwatch, geared toward providers concerned about opioid medication tracking.
When the cap is opened, the timer stops counting, the company said. It allows providers increase their diversion detection, it added.
The company's new iCap features Bluetooth technology which connects with your mobile device to send notifications.