December 13, 2017
New blankets available for senior facilities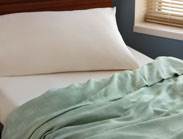 UltraLinks
Encompass Group has introduced two new blankets to its line. The UltraLinks Plus® blanket is now offered in a larger size and two new colors, while the new Khaki Stripe Bath Blanket blends with today's common color schemes.
UltraLinks Plus blankets are plus-sized and geared toward 42-inch wide mattresses. They are available in Aspen Green and Tan. They feature a quick-drying synthetic fabric with stain-resistant properties.
The Khaki blanket replaces the classic dark-blue striped bath blanket that had become a staple in many healthcare facilities, the company said. It is 70 inches by 90 inches and has a soft, napped hand.