May 10, 2017
New bed added to line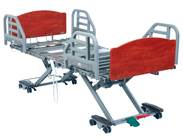 Drive P903 Full Electric Expandable Width Low Height Long-Term Care (LTC) Bed
Drive DeVilbiss Healthcare has introduced the P903 Full Electric Expandable Width Low Height Long-Term Care (LTC) Bed to its line of beds.
The bed can support up to 600 pounds and has a wide selection of features. They include the ability to adjust the bed to 42 inches, a dual-pedal floor lock-braking system, LED lighting, a hand held pendant and adjustable wall saver.
The P903 can be positioned to 30 inches off of the floor for easier transfers.