March 06, 2018
New alarm helps in noise compliance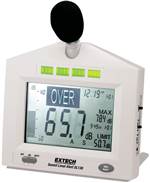 Extech Sound Level Monitor
A new tool is now on the market to help long-term care professionals stay compliant with noise regulations.
Extech Instruments, Nashua, NH, just announced the availability of its new SLI30W Sound Level Alert with Alarm. The device features LEDs that signal providers when sound levels are too high or too low, according to a company release.
The tool is designed to comply with Occupational Safety and Health Administration regulations and includes bright light indicators, along with a jumbo-sized display and digital bar graph to show fluctuations in noise levels. Along with the long-term care space, Extech says the alarm is also ideal in other sites such as auditoriums, intensive care unit patient rooms or any other noisy parts of the workplace.