June 12, 2018
New adjustable electric beds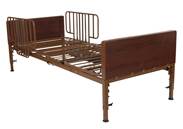 Competitor-II
Drive DeVilbiss announced two new adjustable beds to its product offerings.
Those include the Competitor II Hi/Lo Height Adjustable and Competitor II Manual Height Adjustable models. Features in these new options range from glow-in-the-dark hand pendants with easy-use controls, and a battery backup that keeps the beds cranking in the event of a power outage.
Beds can support up to 450 pounds and are furnished with a "slat deck" for added strength and support, with ultra-light head and foot frames for one-person transport.