October 21, 2014
NeuroMetrix releases pain management system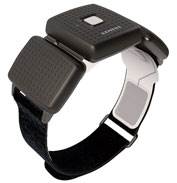 Sensus
NeuroMetrix Inc. has created the SENSUS™ Pain Management System, a wearable neurostimulation technology developed for chronic neuropathic pain, including painful diabetic neuropathy.
SENSUS is non-invasive and is worn on the leg just below the knee. It is used by pressing a button, which triggers the device to stimulate sensory nerves in the leg for a session lasting 60 minutes.
The SENSUS can reduce pain signal transmission through the central nervous system, the company said.