May 13, 2014
MouthWatch creates product with HIPAA-compliant software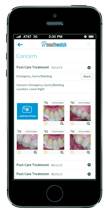 MouthWatch creates product with HIPAA-compliant software
MouthWatch has released its MouthWatch Home Dental Monitoring System, which allows care providers and nurses to look at long-term care residents with an easy-to-use intra-oral camera and HIPAA-compliant software.
"Telemedicine is consistently proving its value in the managed care setting, allowing any facility to enhance care while saving time and money. MouthWatch brings the benefits of telemedicine to dentistry," said Brant Herman, MouthWatch Founder and CEO.
The MouthWatch system is sold to managed care facilities on a subscription basis.