June 13, 2017
Mobile app updates diabetes management tools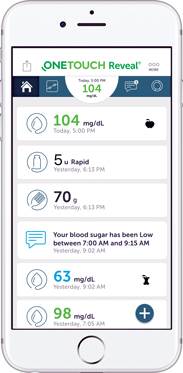 OneTouch App
Johnson & Johnson Diabetes Care Companies has introduced their OneTouch Reveal® Mobile app. It is designed to make diabetes management easier.
This app, which has been updated from a previous version, includes blood sugar and activity timelines, a visual logbook of readings, a fingerprint login, a newsfeed with relevant articles, the ability to set reminders, averages of readings over a set amount of time, and pre- and post-meal tagged results.
OneTouch Reveal syncs with OneTouch Verio Flex blood glucose monitoring system in addition to the OneTouch Reveal web application. It also allows users to share relevant information with their healthcare team, family and friends.
"Self-monitoring of blood glucose is still the most accurate, effective and accessible way people with diabetes can track their blood sugars," said Brian Levy, M.D., chief medical officer at LifeScan Inc. "Now with our new OneTouch Reveal® mobile app and digital platform, we can use enhanced connectivity and the new user experience to help patients use that information to make meaningful decisions and take an active role in their diabetes management."