September 20, 2016
Mobile app for time and attendance released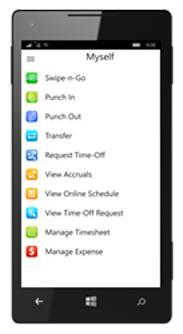 NOVA
NOVAtime Technology Inc. has launched its NOVAmobile™ in the Windows Store.
The Time & Attendance mobile app has grown in usage in functionality since first being released with Android and iOS mobile operating systems, the company said. It allows employees to clock in and out, perform job transfers, submit time sheets, view accrual balance, request sick leave or submit expenses.
Supervisor features include approving an employee timesheet, review and edit time sheets, and team punch.
Other features include capturing geo-location data at the time of punch and offline punching with automatic synchronization after a connection is restored.
"With the growing demographic of the mobile workforce, we are ecstatic that our Time & Attendance mobile app is available on all major mobile platforms," said Brian Meharry, Vice President of Business Development.
NOVAtime has headquarters in Diamond Bar, CA.