October 04, 2016
Medical device can collect whole saliva specimens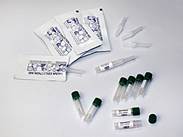 Saliva
Salimetrics Saliva Collection Aid has received patent approval. The medical device allows whole saliva specimens to be collected for laboratory processing.
Researchers face challenges related to poorly designed collection devices, said Steve Granger, Ph.D., Salimetrics CSO.
"Best practices in saliva collection methods use validated devices and consistent protocols that focus not only on providing accurate results, but also on making sure all participants, including those who may have difficulty with another saliva collection method, can actually provide the sample needed," he says.
The aid has contamination-free packaging and easy-to-use instructions.
Salimetrics has a focus on measuring salivary analytes related to stress, behavior, inflammation, sleep, reproduction, health and immune function.