April 07, 2015
Medela adds NPWT pumps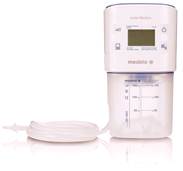 Medela Invia Motion
Medela announced the addition of the Invia® Motion™-15-Days and Invia®Motion™-Endure personal pumps to its Negative Pressure Wound Therapy line.
The devices are "designed to provide safe and effective advanced wound treatment to patients," the company said.
"With these products, we are developing a new class of personal pumps, giving the patient mobility and freedom while providing individualized therapy," said Mitch Odahowski, vice president of Healthcare Medela, Inc.
The Invia® Motion™-15-Days is a personal device that is designed for short therapy duration. When advanced wound therapy is required, the Invia® Motion™-Endure is used, and is billable under CMS HCPCS code E2402.