July 19, 2017
McKnight's Tech Awards deadline extended to July 28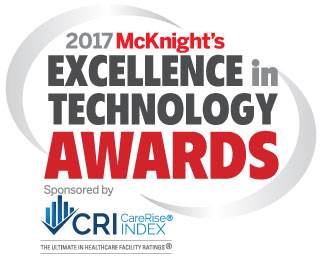 2017 McKnight's Excellence in Technology Awards
Providers have just over a week left to enter the McKnight's Technology Awards free competition.
Long-term and senior care providers can enter to win Gold, Silver and Bronze awards. Categories include: 1) Quality Through Technology, 2) Dignity Through Technology, 3) High Tech/High Touch, 4) Innovator of the Year and 5) Transitions.
To download an entry form, click here. CareRise Index is the exclusive sponsor of the program.
The deadline is 11:59 p.m. on Friday, July 28. For more information on the competition, click here.