November 20, 2013
LogicMark introduces FreedomAlert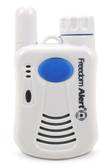 LogicMark introduces FreedomAlert
FreedomAlert is a new personal emergency response system for seniors from LogicMark.
Individuals push a button on a small pendant, which, according to the company, is the world's smallest two-way voice communicator. There are no monthly fees. FreedomAlert calls family and friends instead of a monitoring station. The pendant can operate in a house, and a base station plugs into a standard phone jack.
LogicMark was founded in 2006 and specializes in PERS.