December 22, 2015
LINET and Morel Company reach agreement for patient repositioner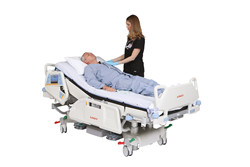 LINET and Morel Company reach agreement for patient repositioner
LINET and The Morel Company have entered into a distribution agreement for the Hercules Patient Repositioner, which allows a caregiver to move patients who weigh up to 500 pounds. LINET will offer this technology on its Multicare and Multicare LE bed frames, as well as other existing hospital bed frames.
Hercules allows a caregiver to automatically reposition a caregiver up in bed, without a lift or draw sheet. The platform-based turn of the Multicare bed facilitates patient turns for routine nursing tasks, such as linen changes and wound care assessments, the company said.
"Adding Hercules to our innovative Multicare and Multicare LE bed frames now provides caregivers with an even more impactful solution to reposition patients safely and efficiently," said Colin Bain, president and CEO of LINET Americas. "Combining the lateral tilt functionality in our bed frame with the Hercules Patient Repositioner provides a best in class approach to patient care."
LINET will offer these products to all major GPOs, IDNs, VA systems and independent U.S. hospitals.