November 01, 2017
Line of inhibitant bags expands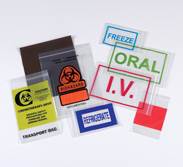 Assorted Bags
Medi-Dose Inc./EPS Inc. has expanded its growing line of resealable and ultraviolet inhibitant bags, the company announced in October.
Users can purchase resealable bags up to 18 inches x 24 inches, in either clear or with a white writing block. New handling instruction bags have been added, including Return to Pharmacy, Patient Discharged, Oral, Freeze and IV.
The company also has two sizes of crash cart bags to deter crash-cart box tampering, and resealable narcotic return envelopes and chemotherapy, biohazard, laboratory specimen and tamper-evident syringe bags.