February 01, 2011
LifeTrail outdoor workout system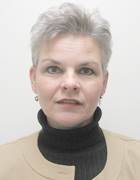 Karla Mitchell
When Karla Mitchell, a nursing home community service administrator, started thinking about ways to improve or maintain her residents' physical strength, she knew that giving them an outdoor option to the indoor gym was important.
Fortunately, she didn't have to look very far. Playworld Systems, the developer of the LifeTrail outdoor workout system, is based in Lewisburg, PA, the same city as her facility, RiverWoods Senior Living Community.
The LifeTrail system features 21 activity panels that outline 159 different exercises and instructions for using stationary equipment.
"Our patients love the versatility and the opportunity to spend time outside" near an orchard, along a walking path, Mitchell said,
She adds that she has seen a noticeable difference in residents' strength and overall performance of daily living activities since installing the system.
Strength building
Using real-life body positioning and movements, the system helps increase strength and dynamic
balance among adults and seniors.
For more info: (570) 522-9800 or www.PlayworldSystems.com.