July 19, 2017
LED lighting fixture released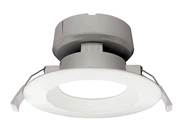 MaxLit J-Box Downlight
MaxLite has released its J-Box Downlight. The LED lighting fixture will add recessed lighting to residential or commercial spaces.
Installation only requires the fixture to be wired to a wall switch and placed into the ceiling.
"The one-piece design of the J-Box Downlight is a real advantage for contractors and do-it-yourselfers," said product manager Brendan Drew. "Not only is it very fast and easy to install, but the long life of LED technology translates to years of maintenance-free illumination and energy cost savings for homeowners and facility managers."
The fixture is offered with either 4-inch or 6-inch diameters. Colors temperature options include 2700K, 3000K and 4000K. Outputs range from 450 to 700 lumens.
The product comes with a five-year limited warranty and lifetime product support.