May 23, 2018
Labels help with pharmacy safety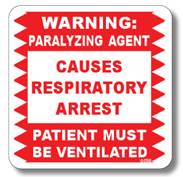 Medi-Dose/EPS Neuromuscular Blocking Agent Label
Ivyland, PA-based Medi-Dose has announced a new line of labels to help nursing homes avoid catastrophic injuries or death.
Neuromuscular blocking agents can pose a high risk to eldercare providers when they are accidentally administered to those who are not receiving proper ventilatory assistance. Such agents paralyze the muscles needed for breathing, and some patients have died or sustained severe injuries when unintentionally receiving such drugs, the company said.
Medi-Dose's Neuromuscular Blocking Agent Warning Labels are available in pre-printed sheets and are meant to be placed on all storage bins and final med containers to clearly communicate to providers that respiratory paralysis will occur, and the patient requires ventilation.