April 29, 2014
Kickstarter campaign launched for solution to broken cables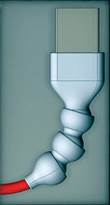 Kickstarter campaign launched for solution to broken cables
Snakable has launched a Kickstarter campaign to fund a product to protect USB cables.
The company has designed a USB cable for mobile devices with built-in protection for wires. This is meant to prevent strain relief on connectors while allowing the cable to move.
The product was made by a Boeing Helicopters employee who has degrees in aerospace technology and aeronautics. It will be 4 feet long and available in a range of colors, and available for Apple and Android devices.
The campaign received more than $2,200 in support in three days, and the Snakable Kickstarter is running through May 25.