June 28, 2017
Integra debuts seating collection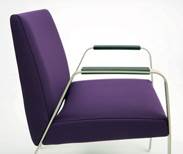 Integra debuts award-winning Valayo seating collection
Integra Seating recently released its Valayo collection. It consists of customizable seating options designed to be a strong and supportive seating option.
Integra offers a selection of finish and fabric options, so customers can customize their seating.
Each seat can support a 1,000-pound drop test and 2,000 pounds of static capacity in order to reduce risk management for facilities.
The company offers lifetime warranty and replaceable components for the products. The collection won the Best of NeoCon Silver Award for healthcare guest/lounge seating.