January 03, 2018
Improved device helps measure fluid responsiveness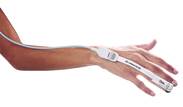 Masimo rainbow light
Masimo has announced the marketing and release of RD rainbow Lite SET™ sensors, which enable the monitoring of Masimo Oxygen Reserve Index™ and RPVi™.
The latter allows clinicians to assess fluid responsiveness noninvasively, and at a cheaper cost than rainbow sensors.
ORi is the first noninvasive and continuous parameter to provide insight into a patient's oxygen reserve in the moderate hyperoxic range, the company said. This allows a provider to know if a resident is headed toward oxygen desaturation and intervene sooner.
Masimo RPVi is a multi-wavelength version of Pleth Variability Index (PVi). This allows providers to assess changes in fluid volume. This can help providers assess patients at risk for hypotension during anaesthesia induction.