November 10, 2015
Hospi released Macy Catheter Tray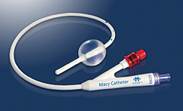 Macy Catheter
Hospi Corporation has released a new Macy Catheter Tray.
It is the only device designed solely for ongoing rectal delivery of medications and fluids, the company said.
The Macy Catheter is used in the hospice/palliative care settings for medications or fluids when oral or IV administration is difficult. The catheter tray packages the Macy Catheter with accessories that enable its insertion and use.